Secom Monitored Alarm Review
known as Home Secure, Home Secure Plus and Home Control+
We reviewed Secom's monitored home intruder alarm offer to see how it compares to others on the market. So without further ado, please read our review and if you find it useful please click the like button at the bottom of the page.
---
Secom PLC
Secom PLC has been providing security solutions since 1918. Secom PLC acquired Carroll Security Group, one of the largest independent electronic security companies in the UK, in 1991 to become a global player in the security market.
Secom provide intruder, CCTV, access control and physical security solutions to homes and businesses throughout the UK.
DO YOU LIVE IN ONE OF THE FOLLOWING POSTCODE AREAS?
AL, B, BA, BB, BD, BH, BL, BN, BR, BS, BT, CA*, CB, CF, CH, CM, CO, CR, CT, CV, CW, DA, DD, DE, DG*, DL*, DN, DT, DY, E, EC, EH, EN, EX*, FK, FY, G, GL, GU, HA, HD, HG, HP, HR, HU, HX, IG, IP, KA*, KT, KY, L, LA*, LE, LD*, LL, LN, LS, LU, M, ME, MK, ML, N, NE, NG, NN, NP, NW, OL, OX, PA*, PH*, PE, PO*, PR, RG, RH, RM, S, SA*, SE, SG, SK, SL, SM, SN, SO, SP, SS, ST, SW, SY*, TA, TD, TF*, TN, TS, TW, UB, W, WA, WC, WD, WF, WN, WR, WS, WV, YO
If so, Verisure (an alternative to Secom) is offering 50% OFF their monitored alarm systems for a limited time only - Our review and offer details can be seen here.
SECOM Smart Home Security Alarm kit contents
The Secom alarm system is a wireless Grade 2 system and contains:
1 x Qolsys IQ panel (7" touch-screen control panel with built-in sounder, built-in camera, full wireless connectivity to devices and Wi-Fi and GSM Signalling)
1 x Smartphone app
1 x External wireless sounder (110 dB with strobe)
2 x Wireless PIR detectors (can be upgraded to pet-friendly)
2 x Door contact
2 x Security by SECOM window stickers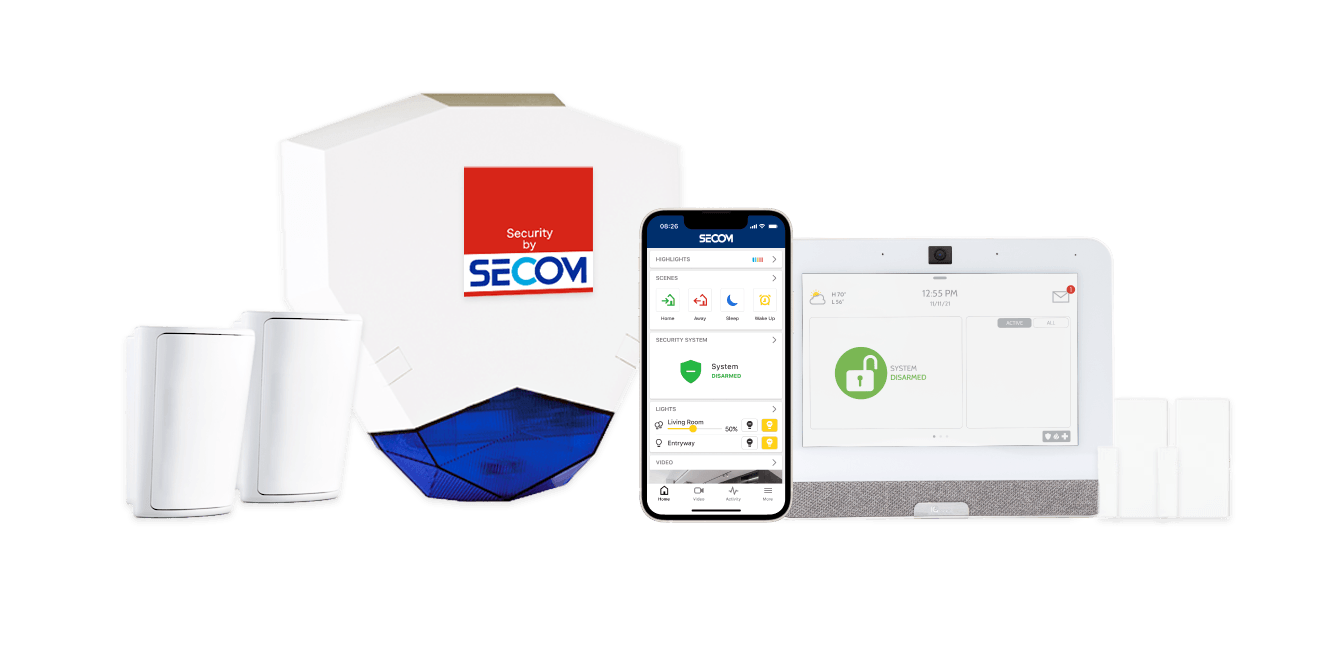 How much does it cost?
Burglar alarm prices vary depending on many factors. Some alarm companies like to charge the full amount upfront, with smaller fee for annual maintenance. Others, such as ADT, Verisure and Secom like to make the entry price low but spread the total costs out over the following 24-36 months.
Secom's monitored alarm system starts from £250.90 + £26.83 per month monitoring subscription fee (referred to as SECOM Smart Home Security Alarm). For this price the kit is pretty limited for an average sized 4 bed detached house, albeit in-line competitor's starter packages on the market. An initial site survey would be carried out to specify exactly what's required for your property and additional security equipment would be priced accordingly (see price list below).
1SECOM Smart Security Alarm + Safety Equipment starts from £280.19 + £29.90 per month monitoring subscription fee. Same system and components as Home Secure but Home Secure Plus comes with a home safety device, such as a smoke/heat, flood or CO2 detector.
SECOM Smart Home Security Alarm + Video (Secom's smart alarm) starts from £357.40 + £32.09 per month monitoring subscription fee. It's the identical smart security system but comes with a WiFi indoor security camera. The alarms's smart app will notify you of any alarm activations as well as streaming recorded/live footage from the smart camera.
The monthly monitoring subscription fee includes all costs for Secom's own alarm receiving centre, maintenance visits# and replacement parts (including battery changes for radio devices).
#Servicing of the alarm is 1 remote service (1st year), engineer visit (2nd year), remote service (3rd year), etc.
Additional equipment (supplied and fitted*, incl. VAT)
Standard Wireless PIR - £55
Pet Tolerant PIR - £60
Wireless door contact - £50
Shock sensor - £65
Wireless smoke detector - £78
Co2 detector - £78
Water leak detector - £65
Proximity Tag - £6
Working Sounder - 129
Dummy Sounder - £25
Please be aware that an additional 50p per month per device will be charged on top of the standard monthly fee.
* Costs assume you order extra devices at time of main alarm order - so can be installed at the same time as main system. Ordering after main installation may incur an additional engineer call out fee. Prices correct as published on 17th May 2017.
What's in the contract?
Like ADT's key holder alarm package, Secom contract length is 36 months. After which you would own the system, unlike ADT's system whereby the equipment is rented and still owned by ADT. You can of course continue with your monthly monitoring plan thereafter or, if you wish, downgrade to an audible-only system, since the Secom Home Secure Plus system is fitted with a fully working external siren.
Next steps...
If you would like a price comparison, use our alarm cost calculator to get an instant cost estimate from an NSI accredited installer in your area.
Published 17th May 2017 - Updated 1st November 2023
Sharing is Caring!
If you found this page useful, please share with friends. Thank you :-)