Smart Alarms
The traditional intruder alarm is making way to a new breed of home security system – The Smart Alarm.
We think it's the best home security solution available on the UK market.

Read on to discover why...
---

What is a Smart Alarm System?
A home security system which communicates with a secure app on your smartphone, tablet (such as an iPad) or desktop computer.
How do they differ from a tradition burglar alarm?
A smart alarm is typically wireless (although doesn't have to be), which means they are less disruptive to install than a hard-wired system.
They have all the same components as a traditional home alarm (control panel, keypad, movement detectors, door contacts, external siren etc.), but are also connected to a secure cloud server typically via your wireless router (aka home broadband), or via GPRS signal over the GSM (mobile phone) network.
The main difference is the level of 'remote' control you have over the alarm system and how the smart alarm communicates with you, when activated, where ever you are in the world.
Why are they becoming so popular?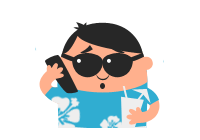 Smart alarms combine the reassurance of physical security with the convenience of personal mobile device management, empowering you to a more secure lifestyle.
As technology evolves, we're evolving with it.
Take smartphones as an example.
Like me, you probably own a smart phone [there's a good chance you're looking at it now].
Great aren't they!?
You can pretty much do everything on them these days... from messaging friends and sending emails, to booking holidays online and watching films.
Thank goodness they can't mow the lawn and earn a wage (as I'm pretty sure my wife could survive quite happily with just one of us).
We're using our smart phones to do more than ever. We're creatures of convenience.
It's what they call "connected living" – and we're only going to get more connected as time goes on.
More house-hold appliances and devices are going online, from your Sky TV to your fridge-freezer.
Like it or not - we've entered the age of "The Smart Home" and intruders alarms are joining the party!
Benefits of a Smart Alarm
I've already mentioned that a smart intruder alarm is no different to a traditional home alarm system when it comes to protecting your property.
The difference is how it combines that protection with you, your lifestyle and emotions.
Have you ever thought...
Did I switch the iron off, after leaving the house?
Of course you have. We all have.
Why?
Because it's a natural anxiety due to the consequence... Iron left on = potential fire.
Forgetting to set your alarm system will be inevitable. The possible consequence is burglary.
Panic not.
A smart alarm will allow you to check the system status via your phone and, if required, allow you to set it remotely. You can even program the alarm to auto-set itself at a predetermined time.
Conversely, if the kids or cleaner has activated the alarm by accident or simply forgotten their key fob/code, they can call you and you can unset it remotely.
Another example, (warning - this one's a little cynical), but if a cleaner/tradesperson/neighbour is left in your property unattended, you can be alerted if a particular door or drawer is opened.
Let's take that one step further.
If the system had camera PIRs fitted, photos could be emailed instantly to your smartphone from inside the room of the opened door/drawer.
WOW. That's smart (and potentially useful evidence).
Other examples of how a smart alarm can benefit you compared to a traditional burglar alarm system:
Alert you when the kids get home from school
Alert you when the teenagers get home at night (or the early hours)
Alert you when temperature drops below a certain level
Alert you if CO2 is detected
Alert you if Grandma has not entered the kitchen by 10am - (That's right - it can monitor inactivity too!)
Email you photos, or allow you to stream live video to your phone from inside your property when the system is activated
Did I mention the connected video cameras also have two-way voice functionality built-in, meaning you can speak to whoever's in the property as well as see and hear what's going on?
Streaming live video from inside the property to your phone can be a useful solution for those concerned about elderly parents living home alone.
You can also connect CO2, gas, smoke, temperature and flood detectors wirelessly to the system, and receive alerts to your smart phone from these devices too.

The smart alarm control panel is connected to your wireless router, which communicates with The Cloud.
The Cloud is a secure server managed by the alarm manufacturer.
Your smart alarm app installed on your smartphone is securely connected to The Cloud.
When the alarm triggers an event, the alarm control panel sends the event to The Cloud.
The Cloud sends that event on to your smart phone. This is all done in a few seconds.
Via the app you view the event information including optional images on your phone.
Are they as secure as a traditional system?
Absolutely.
The Smart Alarm we recommend is a wireless Grade 2, BS EN 50131 compliant alarm system, operating on 868 MHz frequency band.
The alarm system is continuously connected to a secure server, known as The Cloud, which communicates with your handled device or PC.
The Cloud sends push notifications (SMS, email etc) to your iPhone, Android handheld device or PC.
This functionality can act as a self-monitoring solution, saving you money on high monthly monitoring fees.
You are in control of monitoring; verify alarm activations with real-time images of events using the visual verification feature.
What happens if the mains fail, IP drops or your wireless router is switched off I hear you ask?
The system would continue working, on backup batteries, as a standard bells-only audible system.
If you want continued monitoring, you could add a GSM module as a secondary signalling path. This would take over should the internet connection be lost, using the GSM network to notify you, your key-holders or a monitoring centre of alarm activation.
Requirements
To qualify for a smart burglar alarm system, you will need:
a wireless router (unsure? if you have broadband connection, you probably have one). Alternatively a decent GPRS signal.
a smartphone and/or PC (with iTunes account to download app)
This system (or any other wireless system) may not be ideal if:
You live near an army base or with heavy noise pollution in the same frequency band. This will be tested and pre-qualified during an onsite survey or before the installation commences.
Your property has lots of steel work or walls over 2 meters in depth.
How much do they cost?
Here's the amazing thing... A smart alarm is not that much more expensive than a traditional alarm system.
In fact, because of its self-monitoring capabilities, it may actually cost much less on your monthly monitoring fees, if configured correctly and bought from a reputable alarm company.
Where can I buy a Smart Alarm?
We work with NSI and SSAIB approved Smart Alarm installers throughout the UK. Contact us today and we'll put you in-touch with a local installer.
We've also secured an exclusive 50% discount with Verisure Alarms. Verisure offer a very good wireless Smart Alarm (with monitoring and guard response), so be sure to give them a look.
We can point you in the right direction if you're looking for an ADT system at the best price. ADT also offer Police monitored alarm systems.
If you're DIY savvy, Yale's Sync Alarm is definitely worth a look too. It's by far the best DIY smart alarm we've found. It's very quick and simple to install, and is very affordable too.
Sharing is Caring!
If you found this page useful, please share with friends. Thank you :-)