Ultimate Guide to
Indoor Security Cameras
---

Indoor cameras can go a long way to protecting your family and your belongings. Whether you want to deter intruders, check on your pets or elderly parents during the day, or keep an eye on the house while you're away, indoor security cameras provide complete peace of mind.
In this article, we'll look at some of the best indoor security cameras on the market right now and help you decide whether or not home security cameras are the right security solution for you and your family.
Introduction to indoor camera systems
Indoor security cameras are designed to monitor your home's interior, either through a live stream or recorded footage. Indoor cameras can be wired or wireless and come in various shapes and sizes. Some indoor security cameras are designed to be mounted on the wall or ceiling, while others are designed to be placed on a tabletop or shelf.
The bigger the home, the more security cameras you'll need. To be truly effective, you'll need to place at least one indoor security camera at the property's main entrance and outdoor cameras around the ground floor entrances. Some homeowners choose to install home security cameras in the main hallways and around the second floors for additional protection, so consider the coverage you'd like when planning your budget.
Which indoor security camera is best for you?
There are dozens of home security cameras on the market - knowing which one is right for you can be tricky. Let's take a look at the considerations you need to take into account so you can pick the best indoor security camera for your home:
Upfront cost
Most home camera systems suitable for DIY installation are purchased outright. You buy them, you install them, you own them. There are some optional payments with DIY cameras, such as a monthly subscription for cloud storage. More on data storage later.
When opting for a professionally installed system, many security companies give you the option of a one-off payment or a monthly subscription. Paying upfront for a security camera system can be more expensive in the short term but save you money in the long term. You won't have to pay any monthly fees, and you will own the cameras outright. This means you can use them for as long as you want and sell them or give them away if you decide to upgrade.
One DIY security camera can cost anywhere from £25 to £125, depending on the device/brand.
Professionally installed cameras typically start from £150 per camera fully installed.
Monthly cost
Apart from paying for add-ons, like cloud storage, as mentioned above, there's no reason to pay monthly for a DIY camera system. The only exception is payment services like Klarna where you pay the upfront cost over a few months to make the payment more manageable.
Paying monthly for a security camera system is only generally offered with professionally installed systems. This is often offered when your camera system is integrated with your home security alarm system. Think ADT, Secom, Verisure or Simplisafe. Usually, the monthly fee covers the warranty of the products, including an annual service and professional monitoring through their 24/7 professionally manned Alarm Receiving Centre (ARC).
Whilst this can be a more affordable option in the short term. Consider the contract length and total amount paid over the tenure. What's the break clause, and what happens if you move home?
Wired/Wireless/Wi-Fi/No Wi-Fi/Battery
Wired indoor security cameras are the most reliable type of camera as they are constantly connected to a power source and recording device. The power source is usually integrated with the recording device, such as a DVR or NVR.
A network video recorder (NVR) is a computer system that records video footage and stores it on a hard disk, a mass storage device, or cloud storage.
Wired cameras can be more challenging to install, as you must run cables, typically CAT5 or CAT6, from the camera location back to a power source.
Wireless indoor security cameras are easier to install than hardwired ones but less reliable as they are occasionally affected by interference from other wireless devices or patchy Wi-Fi coverage within the home.
Wi-Fi security cameras are the most popular type of DIY indoor security camera. They are easy to install and can be accessed remotely, assuming you have a decent upload internet connection.
No Wi-Fi security cameras are a good option for people who do not have a reliable internet connection. These cameras typically record footage to a local storage device, such as an SD card at the camera or NVR. The recording device (NVR) must be online to receive remote notifications and view recorded footage through the app.
PRO TIP:

This can be achieved by installing a mobile SIM card (with a monthly data plan) in the DVR/NVR or wireless 4G router.  This is sometimes the only option in rural farm locations without a fixed-line internet connection but does rely on the area having good 4G/5G mobile data coverage.
Battery-powered cameras are the most portable type of indoor security camera. They can be placed anywhere in your home without cables or power outlets, but the batteries must be changed/charged regularly.
IP camera
An Internet Protocol (IP) camera receives and sends video footage via an IP network. Unlike CCTV cameras, which send analogue or digital data over coax cable, IP cameras use a local area network connected via ethernet cable or Wi-Fi.
IP cameras capture video with much better image quality, provide remote access, and have more intelligent features like motion detection, night vision and two-way audio.
Data Storage
Security camera data storage is essential when choosing a security camera system. There are three main types of security camera data storage: internal camera storage, external camera storage, and remote camera storage.
Internal data storage
Internal camera storage, or local data storage, is DIY cameras' most common security data storage. The DIY camera typically has a microSD slot, so you must factor in the cost of a microSD card per camera.
Internal data storage is convenient, but the storage capacity is limited. It is also the least secure storage method, as the data/evidence is lost if someone steals the camera.
External data storage
External data storage is a good option for people who need more storage capacity than an SD Card can provide. External camera storage devices, such as a DVR or NVR, can be connected to the cameras via a cable or wirelessly.
Depending on how many cameras you have, this is a slightly more expensive option, but it does allow you to record much more footage. It's also recommended to hide this recording device somewhere safe in the house for added security.
Remote data storage
Remote data storage is a cloud-based storage solution. Remote data storage is convenient, allowing you to access your footage anywhere with an internet connection. Even if your cameras are stolen or damaged, you'll still have a backup of the footage in the cloud. This is usually the more expensive option over time as it incurs a monthly subscription.
Setting up your home camera system correctly
Once you've decided on the best home security cameras for your house, it's time to plan the installation. Start by evaluating your property and home, marking the entry points, and identifying any particular security concerns.
Where to place your cameras
Begin with the main entryways, such as the front and back doors, as they are the most common access points. It's a good idea to place cameras to monitor your front and back gardens, acting as an early warning system before any entry point is breached. For indoor coverage, focus on entryways and high-traffic areas, like hallways, kitchens, and living rooms.
Indoor cameras at entryways can capture different angles and potentially provide identifying images of intruders. Check if your indoor cameras can work through windows if you plan to monitor outdoor areas from the inside, and adjust the motion sensor sensitivity to avoid false alarms triggered by trees blowing in the wind, cars driving by or birds flying past.
How to position your cameras
Proper positioning of security cameras is essential to protect them and prevent tampering by criminals. Consider the following details when fitting your cameras:
Decide whether you want your cameras to be visible or hidden. Visible cameras can act as deterrents, while hidden ones may catch intruders off guard.
Mount your cameras high enough to prevent easy redirection, coverage, or damage.
Ensure the mounting is secure according to the manufacturer's recommendations to withstand environmental factors like wind and rain.
Ideally, use tamperproof screws or fixings.
Position cameras to avoid glare from the sun or streetlights.
Regularly check camera angles as the seasons change and clean the lenses to maintain optimal visibility.
Common mistakes to avoid
There are a few common mistakes to avoid when setting up your security camera system:
Do not place cameras in bedrooms, WC's or bathrooms for privacy reasons.
Ensure your cameras do not intrude on your neighbours' properties, respecting privacy and potential legal restrictions.
Maintain a balance between visible and hidden cameras to maximise deterrence while keeping valuable items safe.
If you aren't sure which option is the best home security camera for your needs, consult an expert.
Our top picks for your home
We've compiled a list of the best indoor security cameras for your home to help you make the right decision for your family:
Best on a Budget: Ring 2nd Gen
The Ring Indoor Camera (2nd Gen) from Amazon is a small, affordable indoor security camera with good image and audio quality, and it is easy to set up and use. The built-in privacy guard and pre-roll recording are also excellent features. You can also use Alexa to create routines that involve your camera, such as turning on the camera when you leave the house and turning it off when you return.
Key Features
1080p Resolution
Infrared night vision
Outdoor Cam
Complete Control From The Ring App
Connected Devices
Customizable Privacy Zones
Motion detection
Security LED lights
Smart home integrations
The Ring Indoor Camera (2nd Gen) costs £49.99 from Amazon, Argos, and other retailers. If you don't have a Ring doorbell, you can buy the bundle here which works out great value for money.
Best Wireless Camera: Arlo Ultra 2
The Arlo Ultra 2 is the best wireless home security camera on the market, with 4K colour video recording, excellent night vision, and improved wireless range.
The Arlo Ultra 2 is also available in a supersized XL version with a 12-month battery life, and it comes with a three-month free trial of Arlo's cloud storage subscription, which includes accurate motion detection.
180-degree field of view
Two-way audio
3840 x 2160 recording resolution
Colour night vision
Siren
Arlo Ultra 2 starts at £627 for two cameras and smart hub, excluding a storage subscription.
Best Night Vision Camera: Google Nest Indoor
The Nest Cam Indoor is a popular, highly-rated security camera with various features, including two-way audio, facial and object recognition, and 1080p video resolution. It is compatible with Alexa, Assistant, Hue, Nest, and Wink and offers a 3-hour history viewing after activity has been detected.
The Nest Cam Indoor has two high-power infrared LEDs providing 15 feet of clear night vision. This means you'll be able to see what's happening in your home, even in low-light or no-light conditions.
The night vision feature is automatically enabled when the camera senses low light and can be turned on or off manually through the Nest app.
Key Features:
24/7 live stream video in full 1080p HD over Wi-Fi.
Three-hour snapshot history
Night vision featuring 8 high-power infrared LEDs
Free 30-day Nest Aware trial
2-year Limited Warranty
The 1st generation version starts at £75 for a single camera at leading retailers.
Best Entry-level Camera: SimpliSafe SimpliCam
If you're seeking an affordable and user-friendly indoor security camera, look no further than the SimpliSafe SimpliCam. This wired security camera offers a quick and hassle-free setup process, making it a perfect choice for beginners. It has versatile features and compatibility with Android and iPhone devices through the SimpliSafe app.
Key Features:
HD Video Quality with a 120-degree field of view
Intelligent Motion Detection
24/7 Live Streaming
Professional Monitoring Subscription Plans
Free Motion Alerts
High-Power Infrared LED
1 Year Limited Warranty
The SimpliSafe SimpliCam is reasonably priced at £139.99. Please note that to unlock its full potential, you will need a subscription plan of £4.99 per month in the UK for standard recording and monitoring.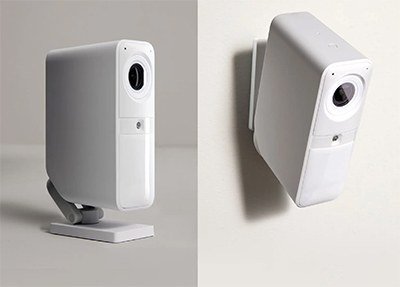 Best Burglar Deterrent: Yale Front Door Wi-Fi Camera Light and Siren
The Yale Front Door Wi-Fi Camera Light and Siren is a robust outdoor camera that bolsters your property's security. Its standout feature is a potent built-in light and alarm siren that detects motion within, combining vigilance with deterrence. The camera includes a Full HD 1080p lens, a circular PIR (passive infrared) detector for motion capture, a microphone slot for two-way audio communication, and a powerful 160-lumen horizontal light.
The camera also includes a speaker for audio feedback, a QR code for easy smartphone app setup, and a microSD card slot for video storage.
Key Features:
Local Video Storage on MicroSD
Solid Mounting
Light and Siren Deterrent
Customizable Settings in the App
Full HD Video Quality
The Yale Front Door Wi-Fi Camera Light and Siren is the premium model among Yale's home security cameras, priced at £76.49.
Most Versatile: Wyze Cam v3
Wyze may be one of the most affordable camera companies in the market, but it doesn't mean it can't compete in terms of quality. The company provides the same features expected from high-end security cameras, all at a fraction of the cost. We recommend the Wyze Cam for most users due to its cost-effectiveness and excellent performance.
It provides the same features as the other models and offers impressive colour night vision through its Starlight Sensors. The Wyze Cam v3 is a versatile option designed for both indoor and outdoor environments, making it an attractive choice for various applications.
Key Features:
32 GB MicroSD card sold separately
Motion and Sound detection and alerts
Starlight Sensor Colour Night Vision
IP65 rated
Smart sound recognition
You can find the Wyze Cam v3 at retailers like Amazon for £70.00.
Indoor security cameras are a critical part of any home security system. They offer peace of mind by deterring intruders, allowing you to monitor your loved ones, pets, and belongings, and providing valuable evidence in a security breach.
Ultimately, your choice should align with your budget, monitoring requirements, and specific needs. If you aren't sure which one to choose, ask an expert! We can provide impartial advice and guidance to make an informed decision.
Frequently Asked Questions
What is the best indoor security camera for recording video clips?
The Google Nest Cam is a popular choice for recording high-quality video clips, but there are several others that offer a similar option.
How does the video quality of indoor cameras compare to outdoor security cameras?
Indoor cameras tend to offer superior video quality when compared to outdoor security cameras.
Can I set up an entire room for continuous recording with just one camera?
You may need multiple cameras to cover an entire room effectively, as one camera's focus is typically limited.
Are there any security practices to consider when setting up a home security system with multiple cameras?
It's important to carefully position cameras, monitor motion zones, and ensure they don't intrude on privacy for the best results.
What kind of video history can I access with most indoor security cameras?
Many indoor cameras offer the option to review video recordings through online storage and may have a free service with limited storage.