If you, like many, think that audible-only alarms are nothing more than a nuisance to your neighbours, it's time to consider a monitored alarm system, or go buy yourself a big dog.
The truth is; a home alarm system - of any kind (even a decoy bell box) - acts as a deterrent to the opportunist thief.
However, in the event of a break-in you want your home protected adequately and a monitored solution can give you that added peace of mind. At least you'll know, your burglary has not gone unnoticed, as is often the case with audible-only alarm systems.
So, without further ado, here's my review of the ADT keyholder response alarm system.
The £99 ADT Keyholder Response kit contains
ADT's Keyholder Response package consists of the following items: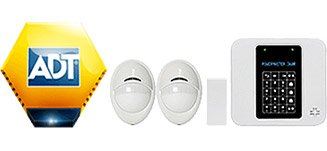 1 x Alarm panel incl. battery with on-board siren - Grade 2 (868Mhz)
2 x Wireless movement sensors
1 x Wireless Door contact
1 x External decoy siren box

All kits are installed by a professional ADT installation engineer
Is the ADT alarm system pet friendly?
Yes. All ADT alarms come with pet friendly detectors as standard, so there is no additional charges if you have pets.
Are there any other costs?
The £99 covers the suplly and installation of the security alarm equipment listed above. However,
The Keyholder response offer is subject to a £29.99 per month contract for 36 months (break-clause at 18 months).
This contract provides you with:

24/7 alarm system monitoring (key-holder response, more on this below)
24/7 ADT comprehensive maintenance, including parts and labour
Alarm equipment rental
All breakdown call-out charges
Annual service

You may pay more than £99 depending on your security requirements.
Depending on your security needs and/or you live in a larger property you may require additional alarm equipment. The additional equipment is charged on top of the £99. For example, if you live in a 4 bedroom house with 3 reception rooms on the ground floor you may require the following equipment:

3 x Wireless movement sensors (4 if you require coverage upstairs)
2 x Door contacts

You therefore require upto 2 additional wireless movement sensors and 1 additional door contact. So how much do these extra items cost?
Additional ADT Movement Detector: £75 supplied and installed
Additional ADT Door Contact: £50 supplied and installed
Additional ADT Smoke Detectors: £85 supplied and installed
Additional ADT Decoy Bellboxes: £40 supplied and installed
Key-holder response. What's this?
In the event of an alarm activation, ADT monitoring centre will inform you, the nominated keyholders (up to 4) and the emergency services (if opted for police response or smoke detection). If you require extra cover, take a look at ADT Police Response package (formally ADT Connect). The Connect package (from £599) offers key holder plus police response.
Are monitored alarm systems worth it?
YES. Absolutely.
A monitored alarm is never ignored. Someone is always watching over your property even when you're not there.
DON'T RELY ON YOUR NEIGHBOURS!!! UNFORTUNATELY IN THIS DAY AND AGE, THEY SIMPLY DON'T CARE - As highlighted in this survey.
If you opt for a cheaper bells-only alarm system the first you'll know about being burgled is when you walk-in through your front door.
What happens after the 36 months?
After 36 months, the customer is out of contract but the majority of customers continue to pay a monthly monitoring subscription for total peace of mind as this monthly fee also includes fully comprehensive maintenance cover.
Can I link the alarm to my mobile phone?
Yes. For an additional £100 you can have the ADT smart alarm package and smartphone app.
This enables you to remotely control your alarm, from anywhere in the world, from the secure ADT app on your phone. You can also receive push notifications of alarm events including when someone arrives home and disarms the system or leaves and arms the system.
More on ADT's interactive service in the video below:
Smoke detection (optional add-on)
As well as intruder detection, ADT offer the option of monitoring your home for fire/smoke too. As you'd expect this comes at an additional cost, more on that below.
Monitored smoke alarms are a fantastic idea and well worth the money in my opinion.
The simple reason being that house fires kill. Fact.
Despite regular advertising campaigns by the government and UK fire service, it's a sad fact that many homes in the UK still do not have a smoke alarm fitted and those which do are often left unchecked and will not work when needed.
Thankfully, since 1991 there's government legislation in place to ensure that all new homes are fitted with one. If you have a battery powered DIY smoke alarm, do me a quick favour... Go check it now.
I mean it! Go press the TEST button right now... I'll wait here for you.
Cost of smoke alarms
To have this added feature, you'll pay an extra £85 per smoke detector and an additional £2.25 per month for 24/7 monitoring. Note; max two smoke detectors per keyholder response system. 2nd smoke detector's monitoring is charged at a reduced price of £1.25 p/mo.
So if you had two smoke detectors that'd be £170 (£85 x 2) on top of your £99 totalling £269 upfront cost then £29.99 (+ £3.50 for smoke/fire) = £33.49 monitoring fee / month.
How do I order an ADT Security Alarm at the best possible price?
Find an authorised ADT Agent with an ADT Offer.

Why do this over going direct?

Well, surprisingly, you can actually get a better ADT deal since the agents are able to offer "best deal" incentives to buy through them.
Contact us if you are interested in finding out who offers the best ADT deal on the market.
It's certainly worth looking into as there are some great deals out there.
Alternatively, if you would like a price comparison, visit our Quick Quote page to get an instant quote.
DO YOU LIVE IN ONE OF THE FOLLOWING POSTCODE AREAS?
AL, B, BA, BB, BD, BH, BL, BN, BR, BS, BT, CA*, CB, CF, CH, CM, CO, CR, CT, CV, CW, DA, DD, DE, DG*, DL*, DN, DT, DY, E, EC, EH, EN, EX*, FK, FY, G, GL, GU, HA, HD, HG, HP, HR, HU, HX, IG, IP, KA*, KT, KY, L, LA*, LE, LD*, LL, LN, LS, LU, M, ME, MK, ML, N, NE, NG, NN, NP, NW, OL, OX, PA*, PH*, PE, PO*, PR, RG, RH, RM, S, SA*, SE, SG, SK, SL, SM, SN, SO, SP, SS, ST, SW, SY*, TA, TD, TF*, TN, TS, TW, UB, W, WA, WC, WD, WF, WN, WR, WS, WV, YO
If so, Verisure (an alternative to ADT) is offering 50% OFF their monitored alarm systems for a limited time only - Our review and offer details can be seen here.
Sharing is Caring!
If you found this page useful, please share with friends. Thank you :-)