If you're looking for general advice on monitored burglar alarms, from what the heck they are, how they work, how much they cost and which is best solution for you, click here!
If you've just discovered the ADT Police Response burglar alarm system through the recent TV advertising campaign, you may be wondering what the key differences are between this and the £99 ADT Keyholder Response alarm package and more importantly whether it's worth the extra money? If so, read on...
Here's what the ADT Police Response kit contains
ADT's Keyholder Response package consists of the following items: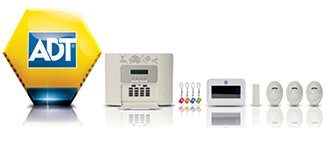 1 x Alarm control panel incl. battery and onboard siren
1 x Remote Touchscreen keypad
3 x Wireless movement sensors
1 x Door contact
1 x External decoy siren box with blue flashing light
4 x Keyfobs
As with all ADT alarms, the ADT Police response system is installed by a qualified ADT installation engineer.
So why is this package £500 more expensive than its £99 little brother?
Great question...
They are both wireless alarm systems, installed and monitored by ADT, with virtually exactly the same kit contents. So why is it more expensive? Bearing in mind you could buy the additional wireless movement sensors from ADT for around £75.
The main difference is the ADT Police Monitored control panel enables you to expand the system with considerably more zones, whereas ADT's Keyholder package only allows you to add jus a few more PIRs or door contacts.
The other difference to be aware of is the ADT Connect system allows police response. The Keyholder package offers key-holder response only. See the section below for details including additional cost for police response.
Both systems can be upgraded to interactive, which allows you to have control of your alarm via the ADT app on your smartphone.
Police response. What's this?
In the event of alarm activation, as well as informing you and/or nominated key-holders(up to 4), ADT will also inform the police. This is for extra piece of mind, but does come at a price. The cost of the police monitoring will increase your monthly contract fee to £32.99 for the 36 month term.
Read our overview of monitored police response systems here.
Is Police response worth it?
It's often not as simple as whether you think it's worth paying more for police response – your insurance company may insist on it!
Check your insurance policy details to find out or give your home contents insurance provider a call.
If your insurance company are not insisting on a police monitored alarm system then it's simply a case of how important you feel this extra level of security is to you.
You need to weigh-up the extra cost against the likelihood of actually needing police attendance. Then factor in the reality that most police constabularies in the UK are unfortunately under-resourced so be realistic to the service level you'll likely receive if police attendance is required.
Smoke detection (optional add-on)
Further details on ADT's monitored fire/smoke system, can be found here.
To add fire and smoke monitoring onto this package will cost an extra £85 upfront per detector and an additional £2.25 per month* for the monitoring (* £2.25 per month for the 1st smoke detector, £1.25 per month for the second).
£684 one-time payment plus £35.24 / month monitoring fee.
Also note; for EVERY police monitored alarm there is a one-off charge of £52 for registering and setting up a URN number with the police.
Conclusion
If you DO NOT require police response monitoring and you live in an average size house, you will probably find the ADT Keyholder alarm will suffice.
However, if you require police response or live in a larger property or require a wireless alarm system with many zones, the ADT Police Alarm package is the choice for you.
Both alarm systems are monitored 24/7 and come with a fully comprehensive maintenance package which includes annual service, parts, labour and service call out fees.
Both are wireless alarms and are monitored by ADT alarm central station via GSM technology, so no need for a dedicated BT line.
Alternatively, if this doesn't fit your budget, visit our "Quick Quote" page to get an instant quote from an industry approved alarm installer in your area.
How to get the best price for an ADT alarm
Buy through an authorised ADT Agent.

Why do this over going direct to ADT?

Surprisingly, you can actually get a better deal since the agents are able to offer "best deal" incentives to buy through them. Obviously the value of the incentive offered comes from the commission they earn from ADT.
Either way; you're still getting a better deal!
Contact us if you are interested in finding out who offers the best ADT deal on the market.
Alternative choice - if this is too expensive or you do not need or want police monitoring, consider the ADT key-holder monitored system; more on that here.
With each type of ADT Alarm you can also pay extra for a guard response and key-holding service (optional).
ALTERNATIVES TO POLICE MONITORED ADT ALARMS
DO YOU LIVE IN ONE OF THE FOLLOWING POSTCODE AREAS?
AL, B, BA, BB, BD, BH, BL, BN, BR, BS, BT, CA*, CB, CF, CH, CM, CO, CR, CT, CV, CW, DA, DD, DE, DG*, DL*, DN, DT, DY, E, EC, EH, EN, EX*, FK, FY, G, GL, GU, HA, HD, HG, HP, HR, HU, HX, IG, IP, KA*, KT, KY, L, LA*, LE, LD*, LL, LN, LS, LU, M, ME, MK, ML, N, NE, NG, NN, NP, NW, OL, OX, PA*, PH*, PE, PO*, PR, RG, RH, RM, S, SA*, SE, SG, SK, SL, SM, SN, SO, SP, SS, ST, SW, SY*, TA, TD, TF*, TN, TS, TW, UB, W, WA, WC, WD, WF, WN, WR, WS, WV, YO
If so, Verisure (an alternative to ADT) is offering 50% OFF their monitored alarm systems for a limited time only - Our review and offer details can be seen here.
Sharing is Caring!
If you found this page useful, please share with friends. Thank you :-)