Wireless Alarms Vs Hard Wired?
In this article we are going to explain the difference between wireless alarm systems and hard wired alarms. We'll highlight the pros and cons of each from an installation and end user's point of view. We'll also cover the cost difference as well as other factors which should arm you with all the information you need to make a clearer – more informed – decision.
Jump to: Which is right for you? or get a Free Quote for a professionally installed alarm.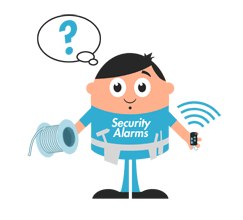 ---
Wireless
Wireless alarms, wireless PIRs, door contacts etc, are more expensive to buy than wired versions. However they are also much easier to install which reduces the installation time and overall cost.
Use our cost calculator for an estimate of a wireless system.
Wired
Hard wired alarm panels and devices are typically cheaper to buy compared to wireless, but there's also the additional cost of the cable, cable clips, trunking etc. Wired systems are usually more expensive in a domestic property due to the complexities and time involved routing and hiding the alarm cables.
How long does it take to install?
Wireless
Based on a 4 bed detached house – approx 5 hours
Wired
Based on a 4 bed detached house – approx 2 days
What are the running costs?
Wireless
Batteries in wireless devices (PIRs, Door contacts, keypads, sirens etc) need replacing approximately every 2 years and the main control panel requires a back-up battery change approximately once every 5 years, therefore you will incur slightly higher running costs with wireless.
Wired
Since the devices in a hard wired alarm system do not run on batteries there's no battery replacement cost. However the back-up battery in main control panel and the external siren battery will require changing approximately every 5 years, just like wireless.
Which system looks the best?
Wireless
Wireless systems are cleaner and less disruptive to install so typically look a neater job once finished. However the actual aesthetics of the system will look very similar to hard wired.
Wired
Since hard wired systems require cables connecting the main control hub to each device, there may be unsightly trunking and/or cables clipped around door frames and skirting boards.
Which system is less likely to false alarm?
Wireless
Back in the 90's wireless intruder alarms used to false alarm more than hard wired. Technology has moved on a long way since. Opt for one which operates on the 868MHz frequency band, rather than 433MHz, as it's a quieter frequency for alarm systems. Spiders and insects crawling over the PIR lens can also cause false alarms but this is not related to the type of alarm system.
Wired
Very reliable. Although most false alarms are caused by mains failures where back-up batteries in the main control panel have not been replaced and no longer hold enough charge to temporarily power the system during a power cut. Like insects crawling across the lens of a PIR, this can happen on both systems. Another good reason for a maintained contract.
Wireless
Lots of people used to be concerned by the potential to jam RF signals, however since wireless systems now conform to BS EN 50131, they have to have in-built anti-jamming detection, eliminating this concern. Also, like hard wired systems, todays wireless intruder alarm systems have anti-masking technology to ensure motion detectors are not intentionally obstructed.
Wired
If a cable is cut, accidentally damaged or even gnawed through by mice in the loft, the system should alert you via the tamper circuit (if installed correctly). However, this will require an engineer visit to repair before the system is usable again, unless you're able to programmatically omit the damaged zone(s), potentially leaving areas of the property insecure.
Wireless
If batteries are left to run low, the responsiveness of wireless keypads and devices can decrease. However, this should never happen as the control panel will alert you to low batteries and system maintenance before issues arise. Hence the importance of an annual maintenance contract*.
Wired
Hard wired systems always perform well unless there's a system fault. However both systems perform as well as each other and have to in order to meet EN 50131 British Standards.
Which is easier to extend/add to?
Wireless
If you need a new motion sensor in a flat roof extension, summer house or garage area, wireless wins hands down here. Both systems will be expandable and allow you to add on more sensors but adding a new device to an existing wireless intruder alarm system is a very simple and clean job.
Wired
Adding an additional device to a wired system can often be complicated and messy. If there's not enough spare cores in the cable run to the device nearest the new device's location it means a whole new cable run from the main panel. Need a PIR in the summer house at the end of the garden? Forget it (or start digging a trench for cable ducting).
Wireless
Yes, a wireless alarm system can be installed with pet friendly motion sensors.
Wired
Yes, a hard wired system can be installed with pet friendly motion sensors.
Can I temporarily remove the devices?
Wireless
Need to remove the motion detector to wallpaper or take off the door contact to paint a door frame? No problem with a wireless system. A tamper warning should alert you when you do this but entering your master code will silence any internal sirens. Once the decorating is done, simply fix the device back in place.
Wired
We do not recommend removing hard wired alarm sensors as things can often go wrong. You could easily reconnect a wire into the wrong terminal when re-fitting the device, disabling this zone from the system, or worse shorting the 12v pair blowing an auxiliary fuse in the main alarm control panel (Bad times. Do not touch!).
Is either system portable?
Wireless
Moving house? Simply unscrew the control panel and wireless devices off the wall and take it with you. Ensure the mains are switched off before opening the control panel (or better still, call the alarm installation company).
A wireless alarm is a purchase for life!
Wired
No. A hardwired alarm is there to stay. Whilst you could disconnect all devices, main control panel and external siren, you'd need to completely re-cable the system back into a new property. Not something many alarm companies would be happy doing.
* An annual maintenance contract is always recommended with any professionally installed alarm system. You don't want to be that "annoying neighbour" whose alarm false alarms regularly.
In our unbiased opinion, the best wireless alarm systems on the pro-install market today are manufactured by RISCO, Pyronix, Texecom and Visonic. There are some good DIY wireless alarms available too; the best we've come across are Yale's Sync range.
The best hard wired systems available are probably those made by Honeywell, Texecom and Scantronic.
Hybrid alarms are also available, RISCO make a great hybrid panel called Risco LightSys 2. A hybrid alarm works, as you'd expect, with both hard wired inputs and wireless zones.
Conclusion. Which is right for you?
In our opinion we would recommend the following:
Apartment/Flat: Wireless alarm, more on security systems for apartments here.
House/bungalow (finished décor): Wireless alarm.
House/bungalow (renovation project): Hybrid alarm, where cables can be routed under floorboards, chased into walls and holes drilled will all be made good during renovation.
House/bungalow (new build): Hybrid alarm, providing the cable installation (AKA - 1st fix) can be done during construction phase.
Very Large Property: Hybrid or hard-wired alarm as wireless range may struggle to provide adequate coverage.
Office/commercial unit: Hard wired or hybrid alarm, where cable can be routed above suspended ceilings.
Industrial unit: Hard wired or hybrid alarm, where cable can be routed in cable trays and trunking is acceptable.
Sharing is Caring!
If you found this page useful, please share with friends. Thank you :-)