Auto Diallers
Alarm systems fitted with an auto dialler will typically include internal and external sounders.
---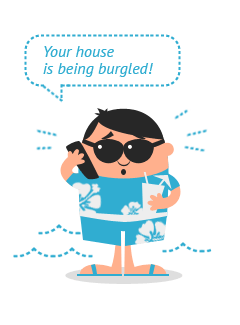 What are auto diallers and are they right for you?
Diallers are often used for homes in populated areas, because it's likely that key-holders will live or work close by.
There are two main types:
Speech Diallers
NOTE: BT recently announced the end of PSTN and ISDN - meaning all BT phone lines (as we know when today) will be replaced with VoIP systems by 2025. So, anyone considering buying a PSTN speech dialer be aware they only have a maximum shelf-life of around 5 years and 4 months.
The speech dialler connects to your intruder alarm panel and communicates using your normal home phone line. It's a cost-effective way to be alerted if your alarm goes off when you're out.
You record a voice message into the speech dialler device and input the telephone numbers of the people (key-holders) that you want it to call if the alarm is triggered. In this event, the speech dialler will ring the numbers in order and play back your voice message explaining what happened and what you'd like them to do!
The person who answers the call will be able to stop the speech dialler from contacting any of the next numbers by pressing a key or entering a code on their phone.
Some speech diallers can be set to detect and send different messages for intruder, personal attack or fire incidents.
Pros
---
Connects to your existing home phone line - no need for additional line rentals
Cheap to run, as it only dials out when the alarm goes off
The speech dialler unit is relatively cheap to buy
Cons
---
You need a home landline – not everyone has one these days (see note above re. year 2025)
An intruder could cut the line where it comes into the premises, so the speech dialler would not be able to call out
You need to install a cable to connect your existing phone line to the speech dialler unit
You need to find reliable people who live nearby to be the message recipients if you're not available. For example, a good neighbour or local relative or friend
Get a quick quote for a Auto Dialler Alarm now. Quick Quote
GSM Diallers
GSM diallers use mobile phone networks and text messages to communicate. You need to buy a SIM card to insert into the GSM dialler, which is connected to your alarm system.
Some alarm companies will supply this as part of the package. Or you can buy a Pay As You Go SIM card, making sure you keep it topped up and in credit (auto top-up recommended).
The GSM dialler can either call or send a text message to the numbers that you have programmed into it. It will transmit the voice or text messages that you set up. The recipient can stop the GSM dialler calling anyone else by pressing a key, entering a code, or replying to the text message with a code.
Some GSM alarm diallers allow you to text them with codes that will reset the alarm system remotely. This can be useful if you or your nominated responders aren't able to get there within a few minutes, and if you are confident it's not a real burglary.
Pros
---
Connected via the mobile phone network so no need for a special telephone line or line rental
Cheap to run as it only dials out when the alarm goes off
The GSM dialler unit is relatively cheap to buy
Good if you don't have a landline or don't want to rely on one in case it's cut
Cons
---
You need to buy a SIM card and pay for calls or texts
You need to be very vigilant about keeping Pay As You Go SIMs topped up. No credit means no calls or texts out!
If the mobile signal in your area isn't reliable, your communication won't be reliable – use a network that you are confident in on your premises
You need to find reliable people who live nearby to be the message recipients if you're not available. For example, a good neighbour or local relative or friend
Get a quick quote for a GSM Dialler Alarm now. Quick Quote