Buy the best security alarm system for your flat/apartment
What's the best type of security alarm system for a flat, studio or apartment? Read on to discover which alarm we recommend and why.
The first important factor which often affects the type of alarm you require is whether you own or rent your flat/apartment.
---
Alarms for rented flats
If you rent an apartment, you're probably already aware that there's certain things you can and can't do to it. So, if you want a security system, your first port of call should be your landlord. You must get their permission! If they're not keen on the idea simply because they're concerned about the installation process leaving holes in their walls, readon on, we have some good news.
Alarms for owned apartments
If you own your flat/apartment, either leasehold or freehold, you may still have to get permission from the owner/management company of the building, assuming you want to fit an alarm siren on the exterior of the property or in a communal area, such as outside your flat door/stairwell (note; an external siren isn't always necessary; I explain why below).
Listed buildings
If the property is listed, on a heritage site or in a conservation area there's a lot more hurdles you'll have to jump to get an alarm fitted. Your first port of call is your local authority planning department. You may also find this document from the BSIA a useful resource.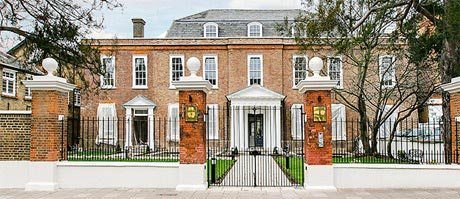 DIY or professional installation
When choosing an alarm system the first big decision to make is whether to get the alarm installed by a professional installer or buy a DIY system and install yourself.
As you'd expect, there's cost savings when opting for DIY but this is often a decision taken out of your hands by your home insurance company. You also need to be competent at DIY.
Insurance requirements
Read your insurance policy details and/or contact them directly to be absolutely sure which type of security alarm system they recognise, if they do at all.
Failure to do so may jeopardise your insurance cover!
When buying a new home contents insurance policy, the insurer may not even question an alarm, while others simply ask something like "does the property have an alarm system?".
As a general rule, the potential loss value and level of risk dictates the type of alarm required.
Naturally, a higher risk/greater loss value property requires a more stringent alarm system and the insurer will ask for minimum requirements from the alarm.
These requirements are often:
The alarm is to be a graded alarm system (typically grade 2 is required, but may require grade 3, if there's very high valuable items such as artwork, jewellery).
The alarm is to be installed by an accredited alarm company (NSI, formally NACOSS or SSAIB are the two accredited bodies in the UK).
The alarm is to be maintained by an accredited alarm company.
The alarm is to be monitored by an alarm receiving centre (ARC).
The alarm is to be monitored with either:

Key-holder response, or
Police response
If an alarm is not an insurance requirement and you understandably want a security system for peace of mind, then you may want consider a DIY alarm system.
Installation considerations
Unless you own your apartment and it's undergoing substantial renovation work, I would always recommend a wireless system for flats/studios/apartments.
Simply because they're much less disruptive to install as there's no holes to drill, or floorboards to lift to route cables between the main control panel and the alarm sensors (PIRs, door/window contacts etc).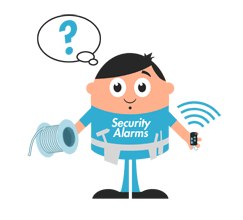 If you're renting and your landlord has concerns about how you plan to fix the sensors to the doors, windows and walls you can always use 3M double-sided tape to fit sensors into position. Providing you have a dust, dirt, grease free surface, this tape will stick the devices very securely, keeping your landlord happy that there'll be no holes left behind or disruption to the decor.
The Yale DIY smart home alarm system we recommend actually comes with both raw plugs and screws as well as 3M tape. Ask your installer to use the same (if going with a pro install).
As well as it keeping your landlord happy, the other great benefits to fitting a wireless system with 3M tape is it's easy to remove and take with you when moving on, i.e. it's a purchase for life, the same can not be said for hard-wired alarms for obvious reasons.
The other thing to consider when installing a flat alarm is whether or not to fit an external siren. This is sometimes impossible due to the height if you're in a 2nd floor flat or higher. It's also often unnecessary too?
How is an external siren unnecessary when it comes to having an alarm system?
A common question for sure but, based on research we carried out, around 75% of people in your street would do ABSOLUTELY nothing when hearing yours, or any other neighbour's, alarm bell ringing.
Which beckons the question; why have a external ringing sounder which does nothing more than annoy most of your neighbours?
We do of course recommend an internal sounder which alerts, startles and scares off an intruder.
Alarm prices for flats and apartments
We work with many accredited alarm companies across the UK and, as always, we recommend a survey is carried out to get an accurate quote.
However, based on an average flat requiring just 3 zones (1 x front door + 2 motion sensors, or 1 x front door + 1 x back/balcony door + 1 motion sensor ) we can give you three prices here today:
Professionally installed Verisure alarm: Big savings with our exclusive 50% discount. Additional monthly fee for keyholder monitoring, maintenance, incl. guard response.
Professionally installed ADT alarm: £49 supplied, fitted and setup. Contact us for the best ADT offer available. Additional monthly fee for keyholder monitoring and fully comprehensive maintenance cover. Optional police monitoring available at additional cost.
DIY install Yale: £219.99 with no monthly fee (self-monitored through the Yale smartphone app)
Alternatively use our cost calculator below to get an estimate for an alarm system for your flat or apartment.
Sharing is Caring!
If you found this page useful, please share with friends. Thank you :-)